Sam Fenwick looks at the work to develop an app ecosystem for FirstNet users and the public safety broadband network's implications for in-building coverage
It has been a hectic time for FirstNet, the organisation seeking to provide US public safety organisations with a mission-critical broadband network, given the flurry of announcements created by the 31 (at the time of writing) states and territories that have opted in.
Mark Golaszewski, its director of applications, says FirstNet "has been quite busy with AT&T in terms of setting up the initial components of the applications ecosystem". These include the recently launched Developer Program, which features a developer portal – this provides resources to help developers successfully build, test, deploy and maintain public safety applications. It features programming tools such as application programming interfaces, software development kits and guidelines to follow when developing applications for public safety. Through the portal, a developer can register their apps and submit them for review and certification.
"We have a process that's been set up to establish some criteria for public safety applications with respect to their relevancy to public safety, the availability capabilities of the application, its resiliency, data privacy, security, scalability, etc.
"We want to ensure and build confidence in the public safety community that the applications that are coming through this programme are of the highest quality they can be and that over time they'll have a higher level of confidence in using them in mission-critical situations."
He adds: "There's been interest from quite a wide spectrum of developers; we've certainly got lots of interest from the large players focused on public safety, but we've also spoken with much smaller and niche players who are interested, some who are already in the public safety space, along with some who aren't and are intrigued by it in terms of the some of the use-cases we've explored. And then we've talked to individuals. In most cases they're first-responders who have either developed something that they're using within their agency and they'd like to make available on a wider basis or who have an idea and are technically savvy but haven't necessarily previously developed an app – we're looking at maybe perhaps getting [them] partnered up with someone who has that skillset."
So far, the interest has been high, but Golaszewski couldn't provide any data on the number of developers who have registered for the programme.
Golaszewski says FirstNet is also setting up a public-safety-focused app store. "It's not meant to be exclusive or be the only place where public safety practitioners can get their apps, it will co-exist with the commercial app stores that are widely used today." He adds that FirstNet will work with those developers "interested in having their applications in the [FirstNet] app store".
He says there are various areas of functionality that have a lot of promise and are having high impact today, and could have even higher impact going forward. These include areas such as situational awareness, with apps providing incident maps and the locations of all the resources on the scene, streamlining incident documentation, eliminating the need for police officers to head back to the station and write reports. "With a broadband network, they'd be able to remotely upload citations and reports, perhaps with the help of a virtual assistant, which could then automatically include all the relevant information such as location, communications, images, videos, etc.
"We envisage analytics being a big part of the value proposition and having high impact for public safety, analytics capabilities that can boil down the flood of available data that might flow into a PSAP or a 911 centre into actionable intelligence that's beneficial for the first-responder."
Golaszewski adds that geographic information system mapping and geospatial visualisation apps could be very helpful to firefighters, making it easier for them to plan firebreaks and track the spread of a fire. He also sees the Internet of Things as a growth area. "The numbers of devices, sensors and monitors that are going to be available [to public safety organisations] is going to require new applications and new technologies to turn seemingly disparate data points into actionable intelligence for public safety. Through some [algorithms it might be possible to] piece together specific information regarding a speeding car running a red light with an ultra-recent report of a burglary somewhere."
Mary Doherty, LTE North America vice president, Motorola Solutions, says her company is working with AT&T and the first application it will provide will be its Kodiak PTT solution. "We've just rolled out messaging and mapping as part of that solution."
She adds: "We have a number of software solutions that we are introducing for proactive policing which is our whole analytics area, and it also moves into the incident, so that's looking at NG911, CAD, our team communications applications, and then as you go further to post-incident we have records management applications."
Doherty says the initial use-case for the PTT app will be non-mission-critical push-to-talk, i.e. administrative users and users such as public service workers and dog-catchers. "They don't necessarily need ruggedised devices, or if they do they don't need mission-critical push-to-talk or to be part of the LMR system." She also says another use-case would be to offload traffic from LMR systems onto LTE during major incidents or large events such as a football game at a stadium.
"You might have some secondary users that are not mission-critical to that event; you would have them on a broadband device and have PTT through our PTT solution, and you'd have interoperability as well."
Turning to devices, Doherty says Motorola Solutions' LEX F10 rugged LTE handset, which was certified earlier this year, supports Band 14 as well as AT&T's other spectrum, and the same is true for its VML 750, a ruggedised vehicular modem.
She adds that the company is also looking at "next-generation handheld and vehicular devices. We have those on our roadmap. We've haven't announced [them], but they're coming next year."
When it comes to supporting the devices that it will supply to FirstNet users, Motorola Solutions will leverage its existing sales channel and service partners. It is worth noting that FirstNet is looking to create a wide ecosystem for devices and that other companies are involved. For example, according to Markku Korkiakoski, Bittium's director – sales and business development, Bittium was the first company to produce a handset with support for Band 14.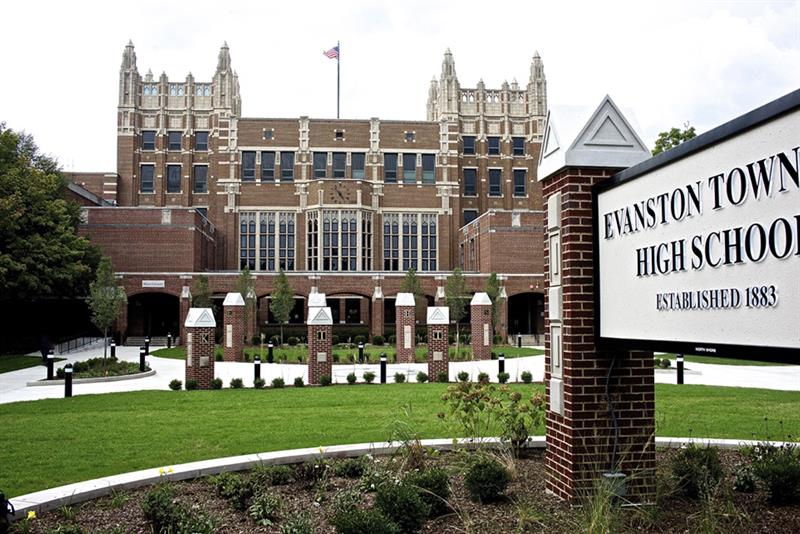 Evanston Township High School's LTE and public safety communications solution has been designed so that support for FirstNet can easily be added

In-building coverage
The shift to LTE that FirstNet will support has some implications for in-building coverage, as Anthony Sutton, Cobham Wireless's coverage sales director, explains.
"[There's going to be] even more need for in-building coverage because the frequencies [used by LTE systems] don't penetrate buildings as well as some analogue systems. In North America, there are a lot of traditional analogue or high-powered PS network deployments; if you look at [P25], everything runs at comparatively high power.
"They're not going to have the same luxury when they move over to LTE as, while it probably has better receive sensitivity, the base stations aren't going to be driving as hard and the mobiles probably won't be as powerful to start with, so there's going to be more of a need for having dedicated in-building coverage being installed – especially for government buildings, metros, all those areas that people, especially in the US, focus on and are susceptible to having incidents taking place in them. There's going to be a bigger push to have that environment covered."
He adds that when it comes to distributed antenna system (DAS) deployments, "if you know that FirstNet is coming along, make sure that what you're putting in there is at least agile enough to support something you may deploy in two or three years' time" to avoid unnecessary costs and inconvenience to the building owner.
"If you've got to go in and replace something that you put in today in two years' time to add in the new frequency, you're almost throwing away all the materials you put in there. That's where the cost comes in. Cable isn't particularly expensive, but it's the time and the effort and arranging with the customer to go and put that in at a later date."
Cobham Wireless and its partners recently installed a 4G LTE cellular and public safety communications solution at Evanston Township High School (ETHS), based on its intelligent digital Distributed Antenna System (idDAS). It provides "reliable, high-quality AT&T in-building coverage" for ETHS's 4,000-plus students and staff. It also improves both public safety communications and supports the use of AT&T's push-to-talk service by ETHS's 50-strong safety team.
Sutton says the company designed and installed the system so that support for FirstNet could be easily added. "We made sure that the combining and cabling that was delivered to the system would be able to support FirstNet frequencies. The infrastructure we put in there can support the FirstNet frequencies with a very simple retrofit.
"We made sure that all the passive devices were capable of taking [Band 14 frequencies], things like the splitters and couplers, so none of them need to be replaced in two or three years' time to support the FirstNet bands."
He explains that while DAS is often used in an in-building environment, it doesn't have to be – "you can deploy the same units to provide outdoor coverage". Outdoor DAS deployments often take place in the wider cellular market, and once Public Safety LTE starts to be provided at scale, some of these deployments will be used to support that service.
Sutton also makes the point that there are two types of DAS: the typical, full-blown kind where antenna elements are fed via base station and connected by fibre-optic cable with "a number of boxes around a building that repeat or reconstitute the signal from the base station"; and the systems used for smaller buildings that use an off-air repeater (the ETHS deployment being an example).
He says new technology will help building owners and public safety organisations keep the cost of in-building coverage down. "DAS's capacity is traditionally tied to a single location. We don't have to work that way any more. We're able to transfer capacity from one location to another. [Operators] will be able to move it to various locations based on their capacity requirements. Sutton envisages base station farms or hotels that will be based in comparatively low-cost areas of a city, which will be connected to lots of different venues (fitted with radio elements) via fibre, "and then depending on what capacity you need as a cellular or public safety operator, you then push that capacity to those locations".
"One of the main costs [operators] have [with DAS] comes from having to perform software updates to base stations in many different buildings. If a lot of those base stations can be co-located, they're much easier to maintain and updates can be performed without having to arrange access to them beforehand." Sutton notes that often in the case of base stations located in metros, "you have to be escorted and you've got to plan that access weeks or months in advance. Being able to do everything offsite and in a more controlled environment works very well for both the cellular and also the public safety organisations."
He adds that Cobham Wireless's idDAS platform, which was originally developed to support cellular technology, now also supports UHF and the company is in the process of adding support for VHF. "Once that's complete, we'll have one common digital platform that will support both public safety VHF/UHF 700, 800MHz as well as the commercial cellular bands." This will enable the use of base station hotels to support multiple venues, which he described earlier.
Co-operation and competition
Speaking broadly about FirstNet and its equivalents abroad, Golaszewski says: "What's quite interesting is that not all countries that we talk with are driving to the same business model as FirstNet, so each country has its own flavour. However, there really is a global direction on the use of LTE and that's where we see tremendous opportunity for developers to create standards-based apps and solutions with global scale."
He adds: "FirstNet is an active participant in the 3GPP working groups that are advancing those standards, it is [involved in the development of] MCPTT, MC video, MC data, proximity services; those types of standardised offerings that are at various states of maturity in 3GPP are absolutely on our roadmap. Our overriding guidance from our legislation as well as what makes perfect sense for public safety is to leverage standardised solutions to the maximum extent possible, for economies of scale, competition and seamless interoperability."
The next few months will be full of significance for FirstNet, with pre-emption for primary users over the AT&T LTE network expected to be introduced by the end of the year, state governors having until 28 December to decide whether or not to opt in, and the departure of FirstNet's current president, TJ Kennedy, around the same time.
It is also worth noting that Verizon, AT&T's competitor, made a bold move back in August when it announced that it will build and operate its own private network core dedicated to public safety and will also make priority and pre-emption services available for public safety when necessary. It says public safety agencies don't have to use FirstNet, even if their state opts in.
I asked AT&T and FirstNet for an update on whether or not Verizon's own public safety network will be allowed to interoperate with FirstNet, but did not receive a reply at the time of going to press. An obvious concern here is AT&T's need to recoup the expense of rolling out the FirstNet network. It therefore remains to be seen whether public safety users will be able to benefit from both interoperability and competition, or whether we are headed for a situation where the latter comes at the cost of the former.
Author: Sam Fenwick